Commercial Window Tint in Birmingham
Reduce Costs & Increase Productivity
As a locally-owned and operated business, it's important to us that we support the other community-based commercial spaces in our area. Glare control, mirror tint, and more can be used to upgrade the exterior of your business and improve security. Don't continue to pay more than necessary to keep your commercial building comfortable for employees or clients when solar tints can be used to reduce energy costs by reflecting harmful UV rays. Whatever your business needs to succeed, Lightwave Solutions is here with thorough commercial window tint services in Birmingham.
You can reach us at (205) 267-3030 to speak to a team member today about what kind of tint will work best for your business!
Pros & Cons of Mirror Tint
Natural light can be comforting at home but can cause glare and excessive heat in your workplace.
If you have outdated, inefficient windows and lack privacy, the mirrored tint may help with these advantages:
Privacy & security
Maintains temperature
Block UV light
Improve appearance
From the exterior, your office may look more professional and welcoming with a mirror or reflective tint. This allows you to enjoy the outside view without worrying about glare and damaging UV light. These harmful rays can increase the wear and tear on office furniture or display products by fading their colors for a dingy appearance. You must get these films professionally installed for a clean and crisp appearance, as some window frames can make DIY installation challenging.
Working on the ground floor of an office building can make privacy and safety a significant concern. The reflective film prevents the need for blinds or curtains by discouraging people from seeing the inside from the exterior. This further strengthens the windows with scratch resistance and increased lifespan, so you're better protected against break-ins. However, installing tint on the windows could void the window warranty. If you're unsure, check in with the warranty company.
You can also decrease overhead costs with our experienced commercial window tint installation in Birmingham, which reflects solar heat and maintains temperature throughout the seasons. This reduces HVAC costs but can reduce the natural light or heat you receive if you experience severe winters. Though this is one of the few cons of mirror window tint, this investment can drastically improve your commercial space.
Why Is Glare Control Important?
Treating commercial windows with a glare control film can drastically improve productivity and comfort by reducing harmful UV rays and glare. Excessive ultraviolet (UV) sunlight can damage office computers and monitors, increase the deterioration of workspace furniture, and cause various health effects in employees. A professional window film can reduce UV rays by up to 99% to prevent these issues and reduce glare.
Glare makes it difficult to see computer monitors, leading to squinting and general discomfort. In the long term, this is a real problem for many office workers and could cause lasting damage. Control the amount of sunlight coming into your office with our glare control commercial tint in Birmingham to protect your employees and workspace materials.
Lightwave Solutions is a team of experienced professionals here to help your business thrive. Don't count on any other team when you need window treatments that improve productivity and reduce overhead costs.
Beat the heat and schedule your free estimate today by calling us at (205) 267-3030 or filling out our online contact form!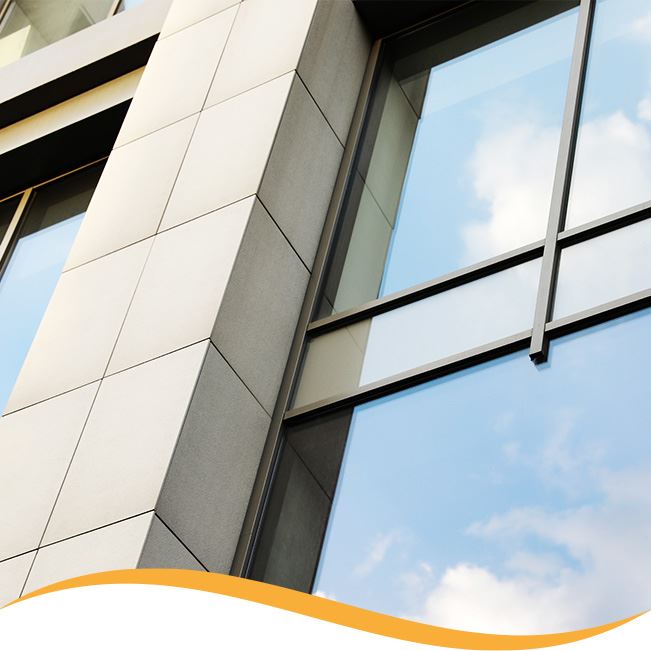 Our Customers Say It Best!
Ready Some of Our Latest Reviews
"Lightwave Solutions was on time and on point! The finish product exceeded my expectations."

David F.

"Excellent company used them several times they have served my company and my customers well top quality people and products!! Only people I will use for my window tinting needs."

Josh M.

"He listened to our concerns and helped recommend the right product for us. I noticed a difference in the amount of sun and heat coming into the house before all of tint had even been installed."

Stacey S.

"Using light waves film saved me from having to replace window glass with tempered glass to meet code, saving me quite a bit of money"

Donna F.

"This company has done a nice job on our house at Lake Martin where we are typically facing very strong sun south and west. The next couple of weeks will show how effective the window treatment is. I have a feeling this will be reducing our energy cost dram"

Wolfgang N.

"Lightwave did a great job on our storefront. They did an onsite consult to make sure we ordered the proper tint for our specific purpose. Very happy with the results."

Stuart R.

"Andy and his staff were very professional! They came out quickly and provided my childcare center with great customer service."

Jessica M.

"I had Lightwave Solutions install low E window tint in 2017. They did a fantastic job and were very professional. I could feel the difference in my house immediately."

Bobby P.

"Andy is very knowledgeable about the products. I appreciated him taking the time to explain the options and find our best solution. The installation process was great, and the team was very friendly."

Katherine P.
Helpful Links
Questions? We Have Answers!